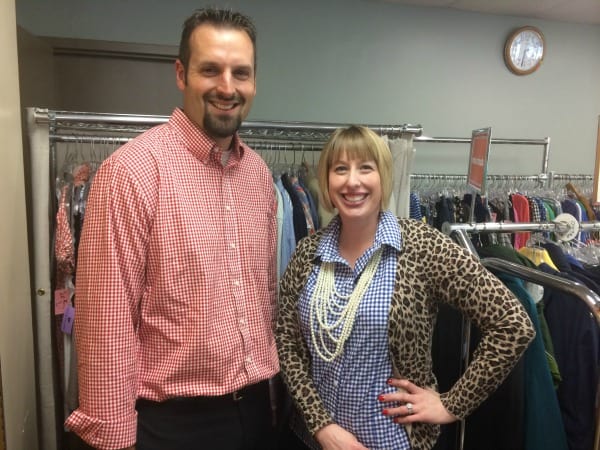 New shoes, backpack, jeans, and shirts-check! Your kids are ready to head back to school-but what about mom and dad's closet?  Fall and the start of school is a refresher time for the kid's clothes but a new school year and season can also be a good time for adult closets to get a good makeover.  But how you can do this with just a little time, money and energy for two people?
Only about a year ago I wrote a post about the need to find clothes that fit and honored my body and all of its post-baby curves.  I also needed an experience that saved me time and money when it came to finding clothes.   I've gone to see the personal shopper at Arc's Value Village several times now and on any given day I'd say I'm wearing at least one thing from my thrift store shopping experiences.  The personal shopping experience has provided me with a collection of wearable outfits, helped me hone in on my style and it's saved me tremendous amounts of money and time.  When people compliment me on my outfit, I don't discount that it's from the thrift store-I proudly say it is from Arc's Value Village and tell people about their personal shopping service.
With my great experience with Michelle I thought I'd schedule a dual appointment with my husband to see if he would also find stylish affordable clothes.  I feel like Men's clothes are so expensive and rarely can we find good sales-especially on dress clothes.  The dual appointment was an awesome experience with my husband because he was able to find clothes he really liked (for both work and weekend) and Michelle gave him a friendly voice when it came to styling tips.  For example, my husband tends to err on the side of too loose fitting clothing and she got him to try some things a bit out of his comfort-zone.  He found a great blazer, dress shirts, casual shirts and even some shoes. When we checked out our cashier even commented that not one thing that Will bought was over $10!
For my appointment, I was looking for fun dresses that could be worn for work and play.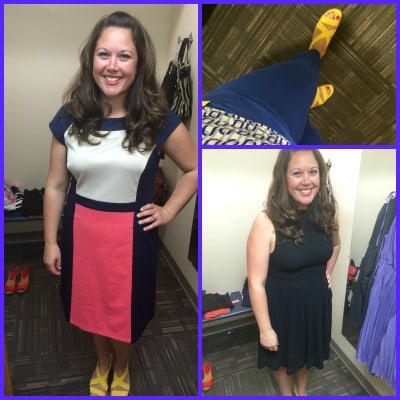 Several of my pieces still had the tags on and revealed original prices between $50-$75. I found some great yellow shoes and even a great computer bag. I also tried on a brand new navy and polka dot dress but it was too big but I loved the style and fabric so I decided to buy it, take it to a tailor and it became a new favorite!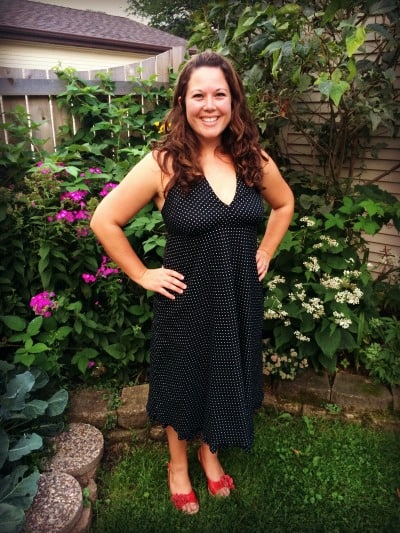 While I went on a dual appointment with my husband, you could schedule a dual appointment with your parent, sibling, coworker, friend or even your child!  The personal shopping appointments are free and in an hour time frame you are presented with several outfits, individual pieces and accessories to refresh your wardrobe.  Michelle works with you on fit and home styling options.  In my original post, I shared tips about preparing for your appointment-including taking photos at your appointment to see how to style.
When you buy clothes from Arc's Value Village the proceeds go to many programs, advocacy efforts and services for families in our community that have an intellectual or developmental disability.  Arc's Value Village Thrift Stores fund programs and services that help people with disabilities and their families chose and realize their goals of where and how they live, learn, work and play through Arc Greater Twin Cities.
As you can imagine, the personal shopping services at ARC's Value Village are extremely popular! When appointments are released they book up within minutes! I have a very special giveaway for my readers! Follow the Rafflecopter instructions for a chance to win a dual appointment with Michelle! For a blog post comment, tell me who you'd bring with you and why!
Thanks to Michelle at ARC's Value Village for giving one of my readers the opportunity to try out a dual appointment! You can follow her styling adventures on Facebook, Twitter and Instagram!