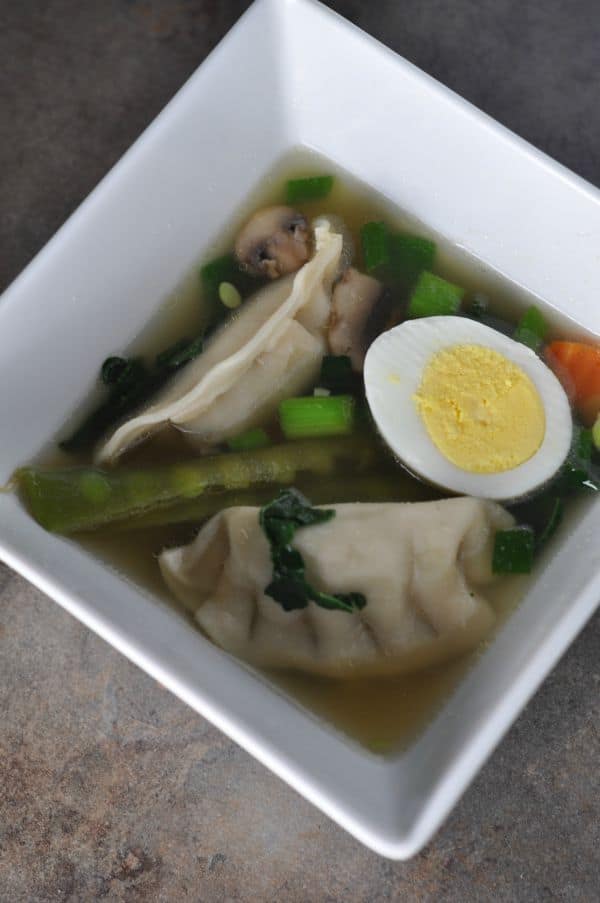 When the temperature starts dipping well below zero and you have exhausted all of your favorite soups, Potsticker Soup is a great soup to try.
The soup has simple ingredients and is easy to prepare. The sautéed garlic and mushrooms give the soup a great earthy flavor base and I like to load it with veggies like carrots, snow peas and kale. The potstickers make the soup hearty and you can use chicken or vegetable potstickers. I like to garnish the soup with hard-boiled eggs which packs the soup with protein and makes it even more hearty.
I like to add the potstickers to the soup as I serve it. If you have leftover soup, store the potstickers separately because the potstickers will soak up all of the broth.

Potsticker Soup
Ingredients
2 TB Butter
1 tsp Sesame Oil
3 cloves garlic (thinly sliced)
1 cup Mushrooms
1 cup Carrots
1 cup Snow Peas (thinly sliced)
1 tsp Salt
1 tsp Onion Powder
2 (multiReplace" id="43" data-gr-id="43">32 ounce boxes) Chicken Broth
2 tsp Soy Sauce
1 cup Chopped Kale or Spinach
2 (multiReplace" id="39" data-gr-id="39">13 ounce packages) Frozen Potstickers (Chicken or Vegetable)
Green onion and Hard-Boiled Eggs for Garnish
Instructions
Sauté garlic, mushrooms, carrots and snow peas in butter and sesame oil over medium heat. Once mushrooms are soft, add salt, onion powder, chicken broth and soy sauce.
Bring to a boil. Add potstickers. Cook for 6 minutes and then add kale.
Garnish each dish with green onion and eggs.
Remove potstickers from liquid when storing.