I am currently serving as a Smart Play Ambassador with the Minnesota Children's Museum and each month we explore various topics and share the educational learning opportunities at the museum as well as apply it to our own lives.  This month I am writing about creative thinking and applying the strategy LENS while engaging during play with your child.
It's January.   A new year, a new you, a new perspective on your life as a parent.  On New Year's Eve everyone kept asking me what my New Year's resolution was and honestly, I really wasn't sure.  I was waiting for something to really speak to me, touch me and that's what my resolution would be.  I wanted it to be basic and simple and really just meaningful and only measured by me.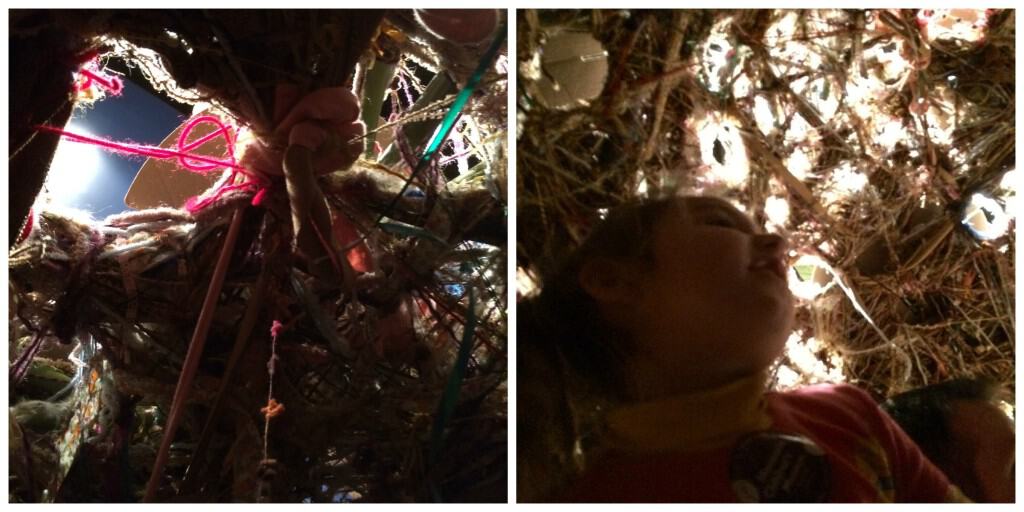 And then there it was.  I've been thinking about cocoons lately, maybe because we've been reading the Very Hungry Caterpillar nonstop and we joke that Wes eats like that caterpillar.  But there it was-a giant cocoon in the Creativity Jam exhibit at the Minnesota Children's Museum and here we all were, sitting inside it, our whole family just focusing on what was inside-ignoring what was going on outside.  That would be my New Year's resolution this year-I want to pretend I'm in a cocoon when I'm with my kids.  I want to shut the world outside out and SLOW DOWN.  I don't want to miss giggles, exchanges, interactions, funny expressions, fun, joy and learning because I am too worried about what is happening outside OUR cocoon.
While to me, it is a "cocoon" the musueum calls it "the nest" and as I mentioned it currently resides in the Creativity Jam exhibit.  If you aren't familiar with this exhibit it is filled with projects and activities aimed at sparking creative thinking, collaboration and imagination.  Honestly, every time I walk in there, I look at my husband with sparkly eyes and say, "Isnt's this amazing?!?"  On one visit there we stuck painters tape throughout a white room (anyone with a 4-year-old knows this is pretty much the best idea in the world).  On another visit we worked on a sewing project and on our most recent visit we designed a boat to see if it would float in the water-filled sensory table.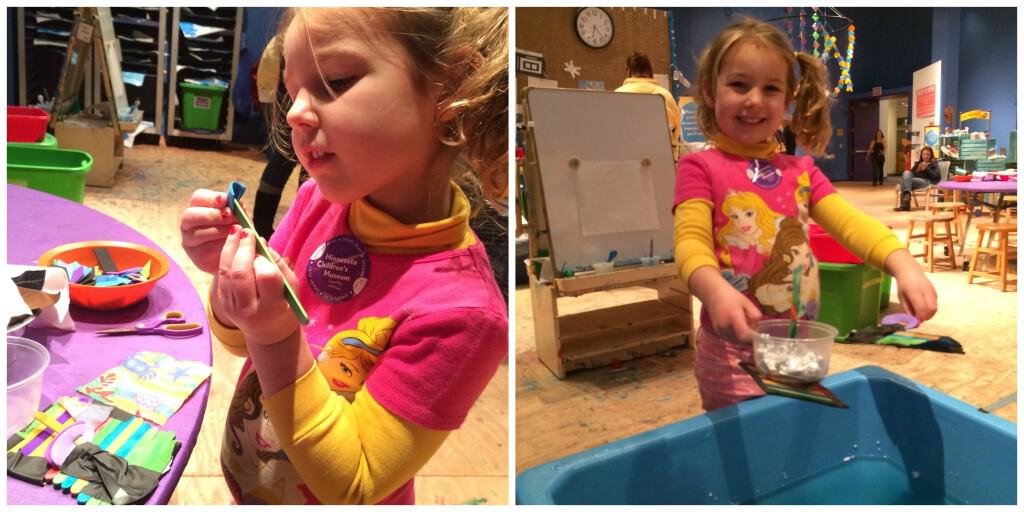 This month, as Minnesota Children's Museum Ambassadors we are examining the concept of creative thinking.  No this isn't about trying more failed Pinterest craft projects or even just making art-it really isn't about a product, outcome or talent.  Creative thinking is about experimenting and letting your child's mind soar how it wants and in whatever terms.  So whether it is thinking about what junk pieces could you tape together to make an object float, brainstorming the ingredients for making a cake or maybe it is just thinking imaginately inside new places like the museum's cocoon or in a fort you build in your living room-creative thinking is about imagining and inventing through frequently-changing experiences.  Why is creative thinking important as your child grows?  These skills are building blocks for your child throughout their childhood years and actually through adulthood.  They are learning how to react and respond to the unexpected and test things out.  Just like you probably do in your everyday life-what if I pitch this idea at work, how do I respond when the dishwasher breaks, how am I going to get everyone home from school and fed in 30 minutes? As adult you are constantly using creative thinking to manuever through an ever-changing world.
Ok, so what do we do as parents to support this learning? Here are some things we can do while our children play that allow us to enagage in a thoughtful way while at the same time fostering an environment that allows or children to tackle new endevors like creative thinking.  And it's an easy acronym to remember, the museum calls it "LENS."

L: Let Go
It can be easier said than done but try to follow your child's lead and resist the urge to direct or provide too many solutions/answers.  Accept there is more than one "right" way. Watch them crank the wheel and see what happens!
E: Empower
Encourage your child to think for themselves, engage in relevant conversations, ask their opinion, instill confidence in their abilities. Let them be the "boss" and ask them what you should do.
N: Notice
Pay attention to the little or hidden things- like how they maneuver a puzzle piece until it fits rather than complete the whole puzzle- and discover your child's thinking.
S: Support
Be flexible, allow time to explore freely, pose challenges, embrace failures and mistakes, learn alongside your child. Let them climb inside new things and check it out, allow them to figure out how to get out or even share toys with others in an exhibit or activity.
So are you ready to do some playing AND learning? This month I have an awesome coupon for you! You can save $15 on a Minnesota Children's Museum new membership, gift membership or use it to renew your family's current membership.  Use the code 141001016 online, over the phone or at the Box Office by February 1, 2014.