My best Instant Pot Beef Stew recipe made with potatoes, carrots, and celery. Cooked for 35 minutes on the Instant Pot stew function with a yummy thick beef sauce.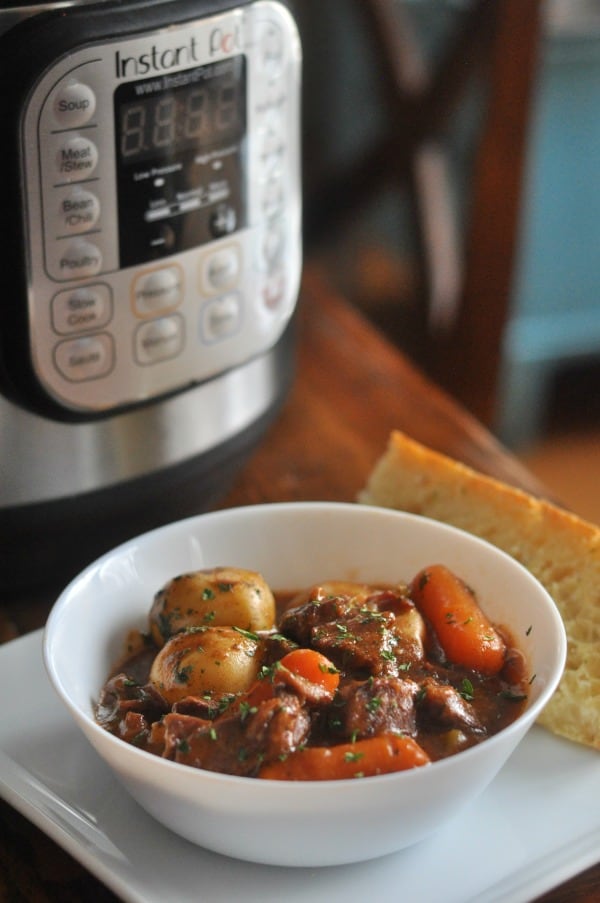 This Instant Pot Beef Stew recipe is part of my series about how the Instant Pot is helping me with meal planning each week. This post contains affiliate links for products that I use and endorse. This easy recipe will show you how to make a comfort food classic right in your Instant Pot and how doing so will save you meal planning time each week and give you more time with your family.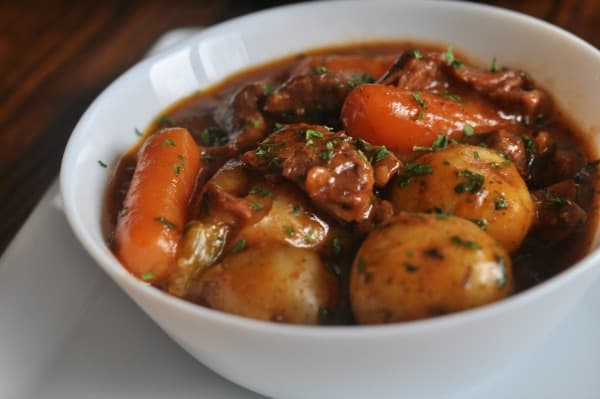 I bought my Instant Pot after hearing from friends who swore the kitchen appliance was saving them time in the kitchen each week. Yes, to saving time and being able to use that time to have quality time with my family later!
I've found that the more time I spend meal planning or using tools that cut cooking time, the more time I get to spend with my family.
I was just talking to another mom this weekend and she said she bought a second Instant Pot! I was so jealous! We laughed about how we both brought our Instant Pots on vacation last summer!
Needless, to say, I love my Instant Pot and it is helping me so much with cooking each week. The other mom and I also agreed that the biggest reason we love Instant Pot is that we can walk away from it while it is cooking and do something else, I think this is key!
If you are new to using an Instant Pot, go check out my videos on my meatloaf or pot roast recipe for tips on getting started and how to do the quick pressure release.
Kitchen Tools and Special Ingredients for Instant Pot Beef Stew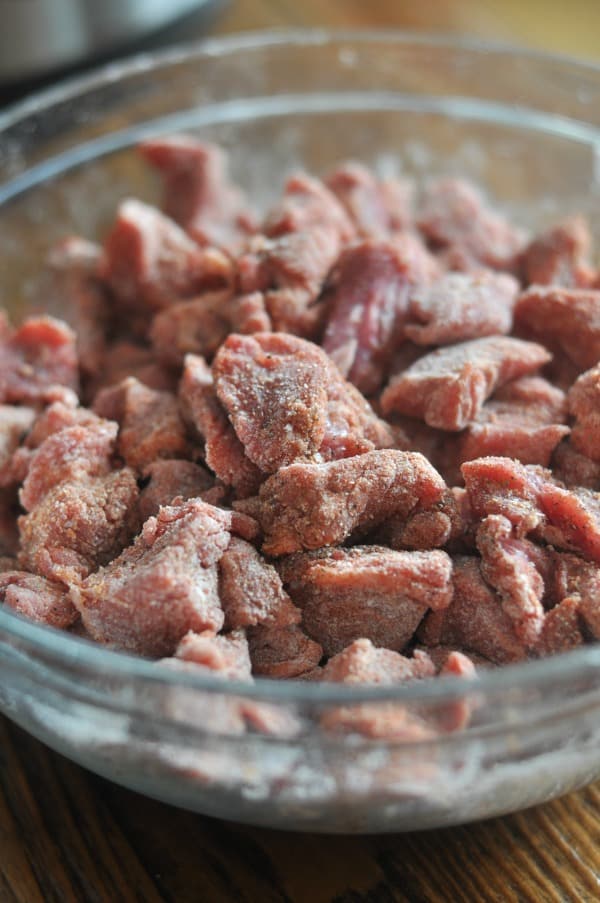 Beef Stew is one of my very favorite comfort food classics. The Instant Pot makes it so easy to make a tender beef stew with a thick and yummy beef sauce. I've been making this on the weekends because I love a good comfort food, especially on Sunday nights to share with my family. We usually keep Sundays low-key because we know the week ahead will keep us busy so it feels good to enjoy a good comfort food dish together. And I love that I don't need to watch a pan on the stove or oven in order to get a great meal together for my family.
I also love this recipe, because it is a great classic to share with a family who just had a new baby or is needing some extra kindness. We recently had a big snowfall here and a neighbor came and used their snow-blower to get us out, so yesterday, they received a batch of this Instant Pot Beef Stew as a thank you! It is a great meal to share with others. It is a comfort food classic so many people enjoy and appreciate!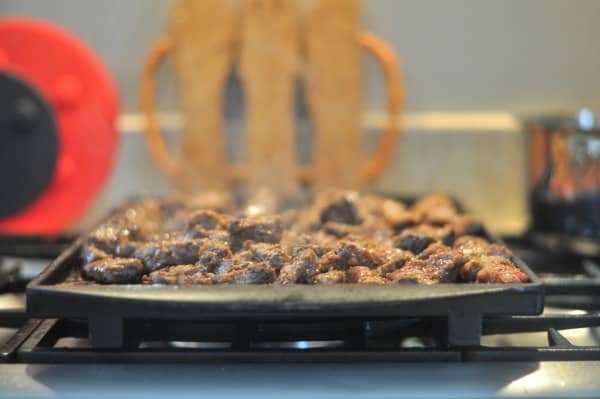 I'm not a big fan of using the saute function on my Instant Pot to brown meat and instead, I prefer to use cast iron to brown my meat. I'm using chuck roast for this recipe. Have your butcher cut your roast into cubes/bite-size pieces. Once browned, you can add the beef to the tomato paste/beef stock/brown sugar mixture.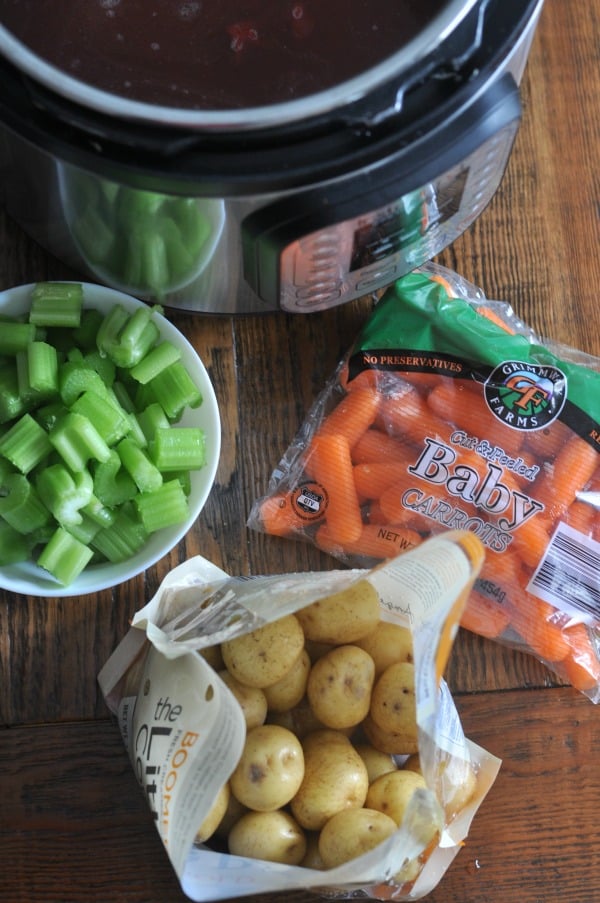 For this Instant Pot Beef Stew recipe, the only chopping you have to do is the celery. Then I add a bag of baby carrots and potatoes and don't worry about chopping them! Yes, more time saved!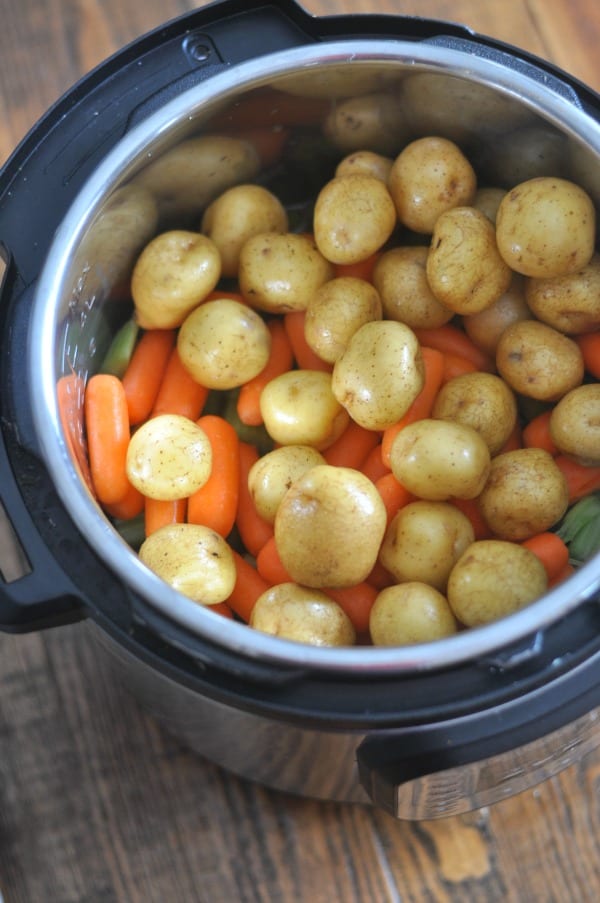 The Instant Pot Beef stew cooks on the meat/stew function (35 minutes manual high pressure). After it is done, I turn it to saute and add my cornstarch and beef stock mix to thicken the sauce. My mom taught me the Tupperware trick years ago (check out the recipe for details).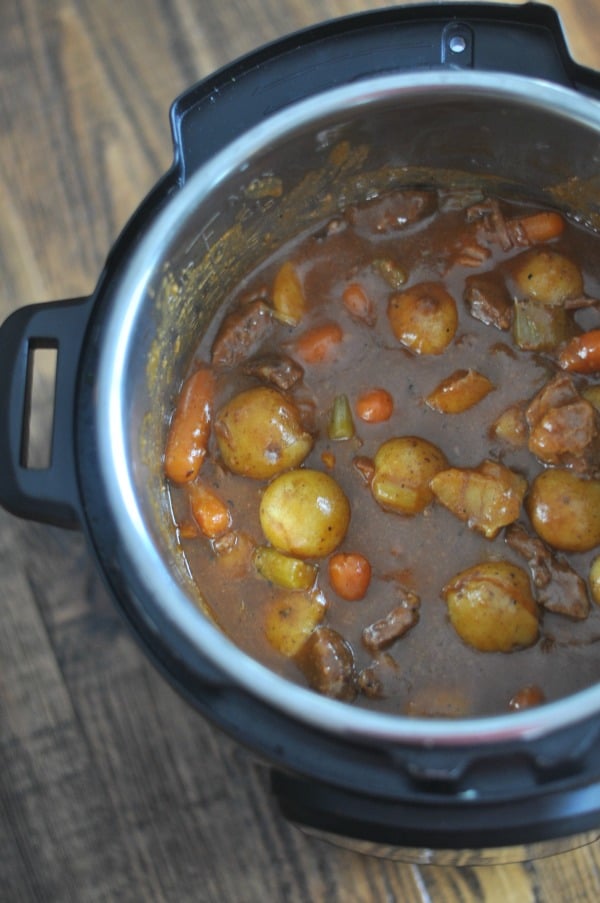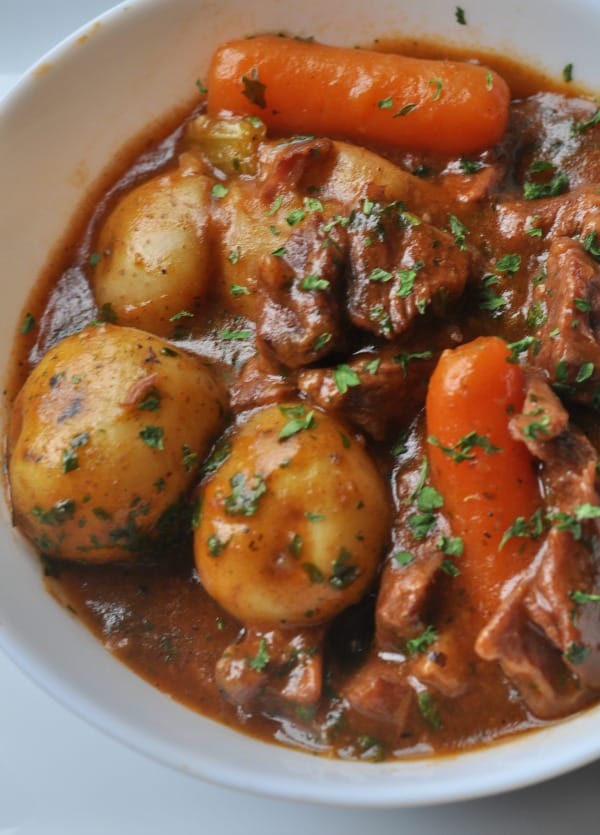 Tips for Making Instant Pot Beef Stew
Use Chuck Roast for beef stew. Don't be tempted to buy stew meat because it says "stew" or because it is cubed already. Ask your butcher and they are happy to cube the chuck roast meat up for you. I call ahead on my way to the store or stop at the butcher first before I do my other shopping.
I don't love the Instant Pot saute function for browning meat and instead prefer using my cast iron griddle or pan to get a nice browning.
Buy the bags of baby carrots and potatoes. No chopping needed!
Never add Corn Starch to a hot liquid. That's how clumps in gravy form. Instead, follow the directions in this recipe for using Tupperware and mix with stock before adding to a hot liquid. This is how you make the best gravy, my mom taught me this trick!
This recipe makes great leftovers! I love making it on Sunday and having the leftovers later in the week!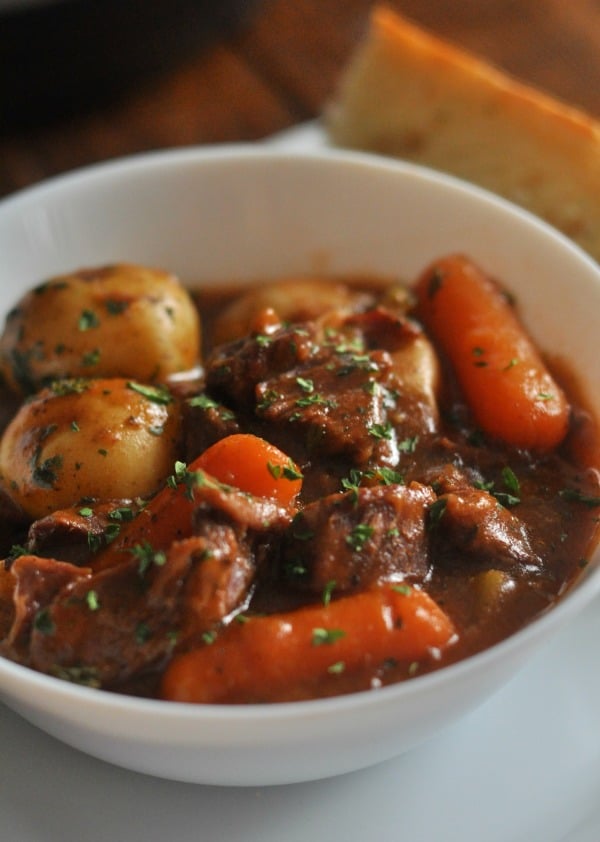 Just like my friend and I talked about, using our Instant Pot for meal planning, allows us to do other things and spend our time in other ways. And that's a win in my book, a great tasting recipe that allows me to spend some time getting other things done or maybe even sitting down with my kids to read some books or even my own book. Help with meal planning and giving me extra time with my family, that's what I need more of in my life and I'm thankful I've found that with my Instant Pot.
I hope you enjoy this Instant Pot Beef Stew and share it with your family or someone who deserves some extra kindness!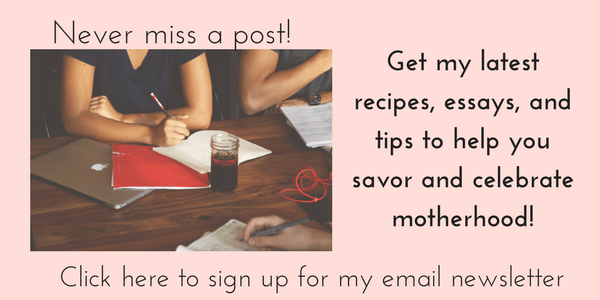 Instant Pot Beef Stew
Ingredients
2.25 lbs Chuck Roast (ask your butcher to cube the meat)
¼ cup Flour
2 tsp garlic salt
2 tsp onion powder
1 tsp smoked paprika
½ tsp ground pepper
2 TB Vegetable Oil
2 ½ cups Beef Stock (divided, ½ cup is for the sauce at the end)
3 TB Tomato Paste
2 TB Brown Sugar
1 lb Baby Carrots
5 stalks of Celery chopped (about 2.5 cups)
1.5 lbs little potatoes Baby Potatoes (I like the Little Potato Company's Baby Boomers)
3 TB Corn Starch
Garnish: 1 TB Dried Parsley Flakes
Instructions
In a large bowl, add chuck roast cubed pieces. Pat beef dry with a paper towel. In a small dish combine flour, garlic salt, onion powder, smoked paprika, and ground pepper. Toss this mixture with the beef.
Using a large stove-top griddle, heat to medium heat and add vegetable oil, brushing oil over griddle to ensure coverage of oil. Once heated, add beef and cook until brown, flip beef and brown on the other side. Beef can also be browned in batches in your Instant Pot on the sauté function or in a Cast Iron pan but I think the cast iron griddle is the easiest and browns the meat the best.
To your Instant Pot, add 2 cups of beef stock, tomato paste, and brown sugar. Add browned beef, baby carrots, celery, and potatoes.
Lock the lid, set the valve to seal. Select the meat/stew setting (35 minutes high-pressure manual).
Once your Instant Pot has finished cooking, do a quick pressure release. Open the lid and select the sauté function button, do a quick stir. In a Tupperware container with a fitted lid, add ½ cup of beef stock and 3 TB of Corn Starch. Shake the container until combined and add to your Instant Pot and stir into the stew. This will thicken the beef sauce.
Garnish beef stew with dried parsley flakes.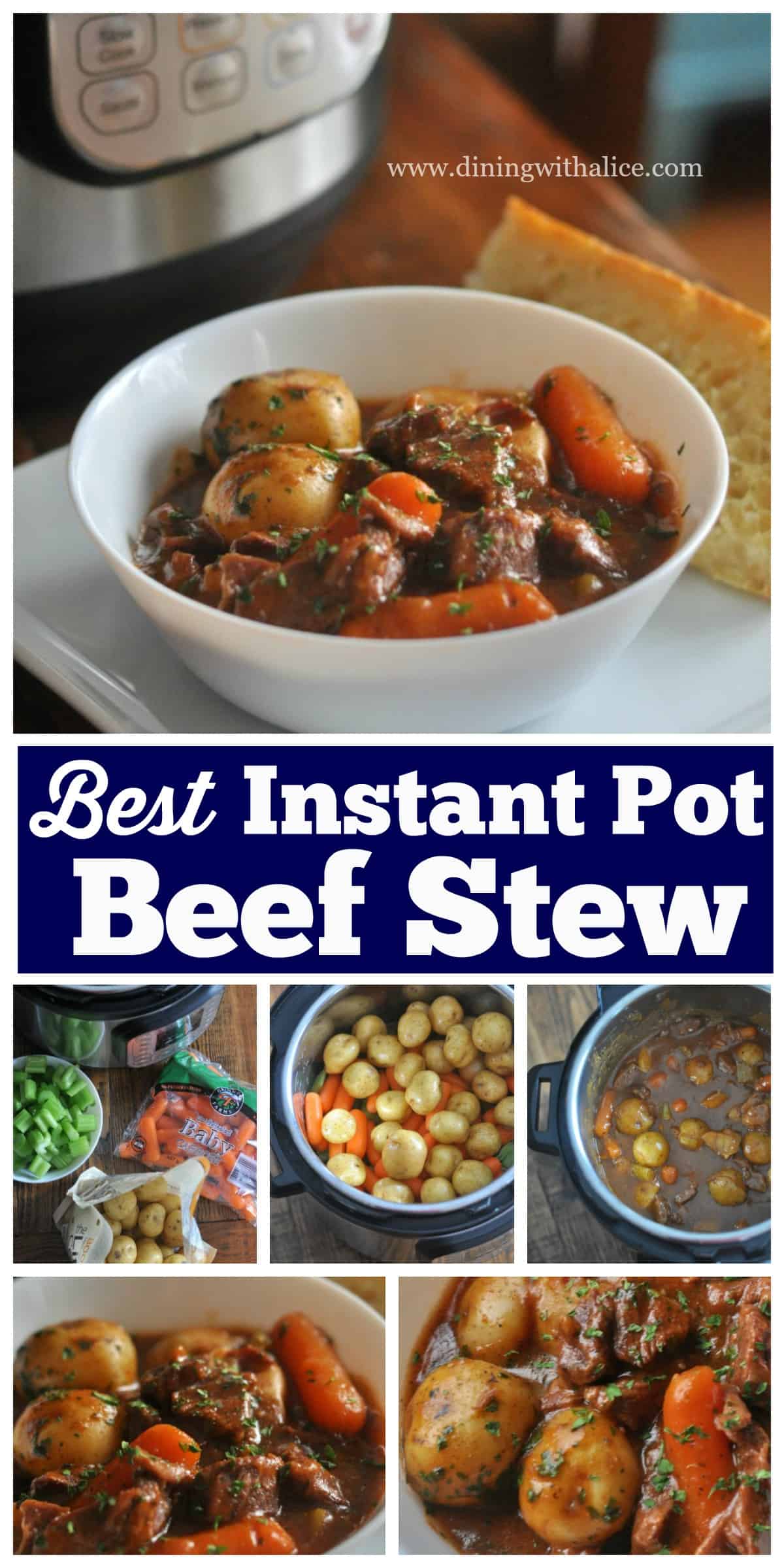 SaveSave
SaveSave
SaveSave