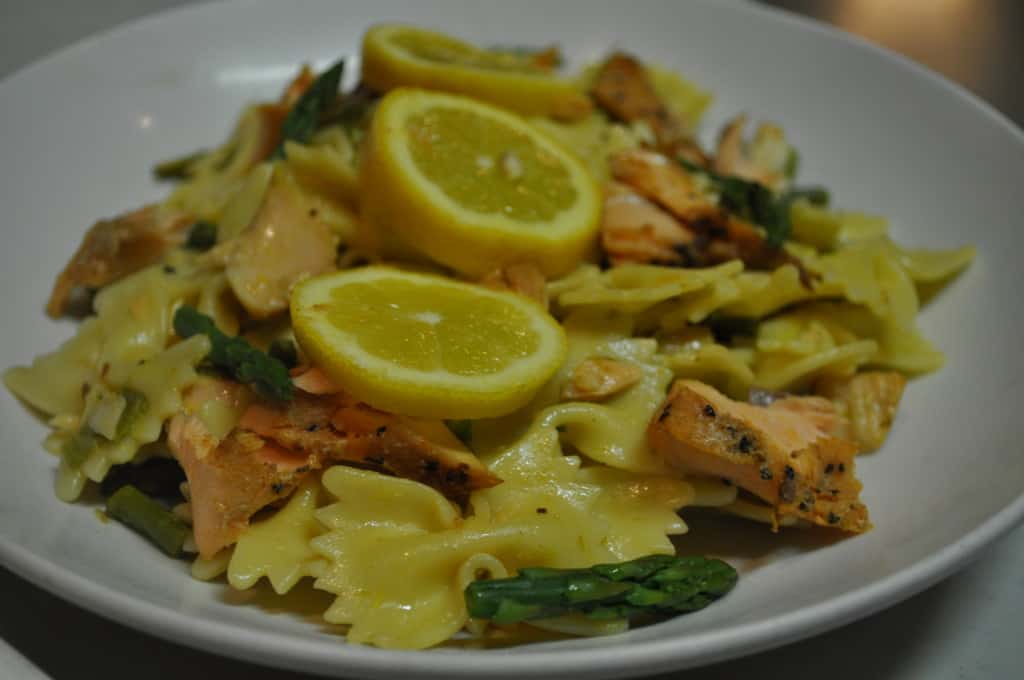 I recently worked with Twin Cities Live and No Name to come up with some spring recipes.  I thought No Name Salmon would be perfect for some spring recipes.  I have to admit cooking fish gives me some anxiety but No Name Salmon has pop-up timers-just like turkeys! These timers make cooking the salmon goof-proof.  I literally put the fillets in the oven and waited for the timers to pop.
This pasta salad recipes is a yummy fresh salad, just perfect for spring.  If you are looking for another great recipe using salmon, check out my
Salmon Club Sandwich.
Ingredients:
2 (5 ounce) No Name Salmon Fillets
1 lb Farfalle Pasta
1 lb Asparagus (cooked and chopped)
¾ cup Lemon Tarragon Salad Dressing
Zest from 1 Lemon
Directions:
Preheat oven to 400.
In an oven-safe baking dish lined with parchment paper, bake No Name Salmon Fillets for 20 minutes or until pop-up timer pops.
Cook pasta according to package directions and once cooked and cooled, toss with chopped asparagus, dressing, lemon zest and cooked No Name Salmon (broken into pieces).
Makes 10 servings