Poppy Chicken Salad is a simple, no cook recipe with cashews, lemon zest and poppy seed dressing. Don't like mayo? No problem, this chicken salad is made with poppy salad dressing. Serve on salad greens or on a sandwich.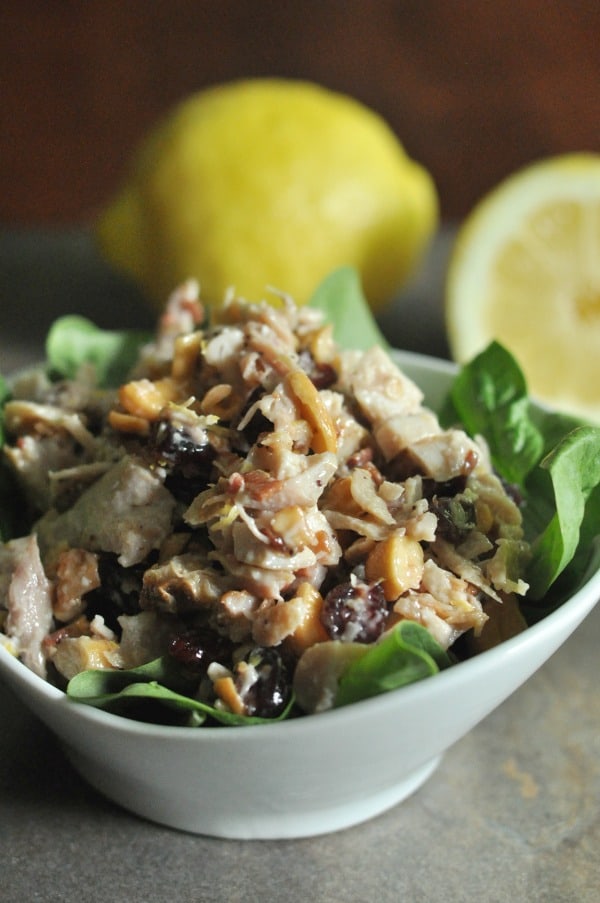 My husband absolutely hates Mayo and so of course this carries over into tuna and chicken salads. One of my favorite ways to adapt chicken salad for him is to use poppy seed dressing. This is a dressing you can find at any grocery store in the dressings area and my favorite is Brianna's version (with the peach picture on the front).
In the summer I'm always looking for quick dinners and especially ones that don't heat up the house so I love the fact that this recipe is no cook. This Poppy Chicken Salad is super simple, just a rotissere chicken chopped up and add, craisins, cashews, dressing, bacon pieces (near the dressing at the grocery store) and just a little lemon zest to brighten it up.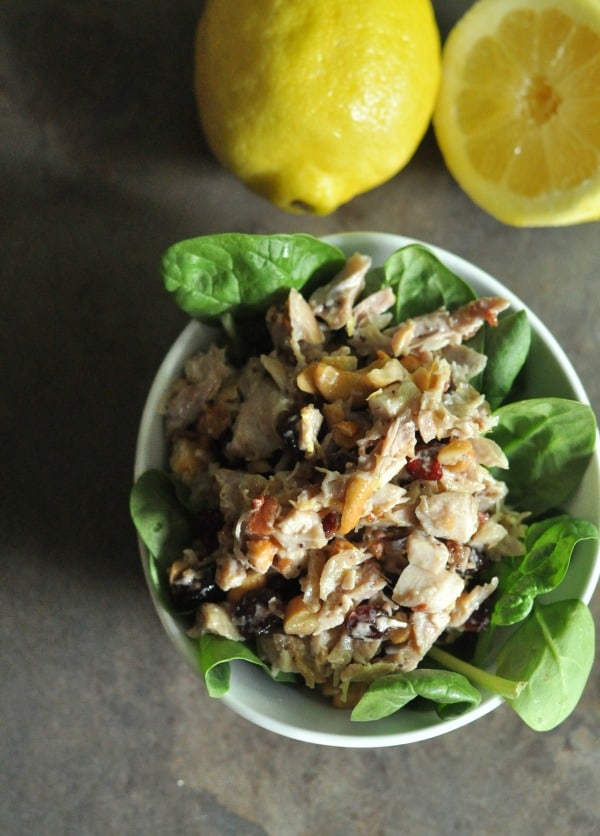 I shared this recipe on Twin Cities Live on June 5, 2015. My Poppy Chicken Salad was featured in a segment on my very favorite picnic places in the Twin Cities. This is a perfect picnic food, easy to assemble and serve. I like to serve it with spinach greens or with Hawaiian rolls. I recently just served it in the backyard with family when we needed an easy dinner on a busy night. Everyone raved about how good it was, including the kids.
For other no cook summer and picnic foods, check out my Ham and Pickle Dip, Red Jello-Salad or No Bake Banana Cream Pie.

Poppy Chicken Salad
Ingredients
2 ¾ cup of Chopped Chicken (cooked)
1 cup Cherry Craisins
⅔ cup Poppy Dressing
¼ cup Bacon Pieces (Cooked)
1 cup chopped Cashews
Lemon Zest from 1 large lemon
Instructions
Combine all ingredients. Serve on salad greens or as sandwiches.